Chicago DJ Services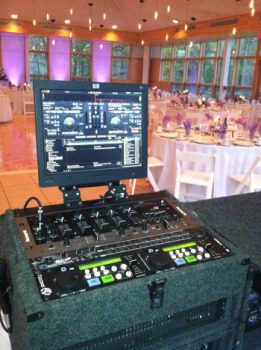 An Enchanted Evening is a Professional Entertainment Company offering high quality, award winning services at an affordable price. We have over a dozen highly talented DJ/Emcee's who are a part of our team who provide exceptional service for 300-400 Wedding Receptions each year.
Although Weddings are our Specialty, we also provide services for Corporate Events, School Events and Private Events as well. The majority of our non-wedding events come from the large amount of referral business we receive each year from weddings at which we have performed. That allows us to continue to offer our first class service to past customers and their guests who need other types of DJ services. If you are looking for services other than a wedding reception, please contact us for a customized service quote.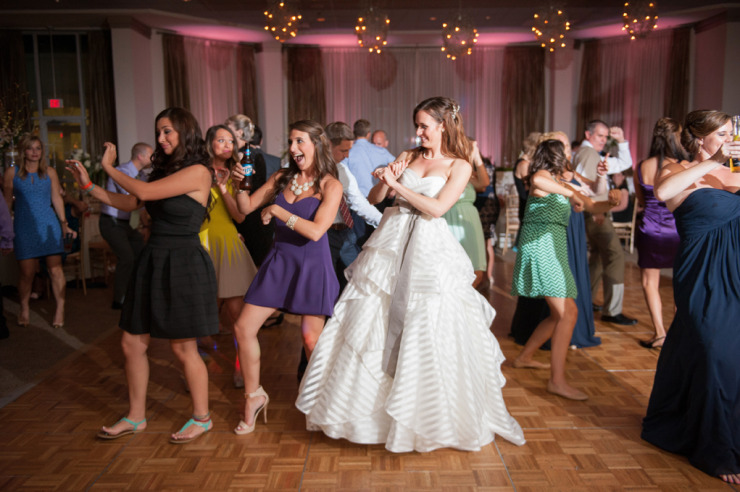 Wedding Services Chicago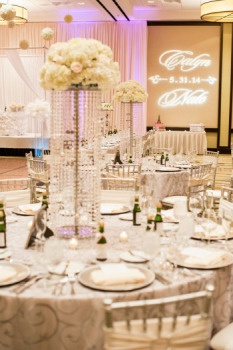 We are specialists in the wedding industry as over 90% of our events each year are Wedding Receptions which allows us to offer a specialized service for this one in a lifetime event. We are able to repeatedly exceed our customer's expectations by maintaining a level of service above and beyond other entertainment companies . Our entertainment staff consists of experienced, professional Disc Jockey emcees which assures you that everything will be handled in a proper and professional manner. In addition, your entertainment specialist will provide the service of your personal wedding coordinator and your master of ceremonies to coordinate and lead all of the activities throughout your reception.
As a company our approach to wedding receptions is different than most other entertainment companies because we find no two weddings are exactly alike. Instead of offering pre-set Packages, such as the 'typical' Bronze, Silver, Gold, Platinum packages many DJ's offer (which provides the same generic, pre-set format to every customer) we offer one service package which allows us to get a better idea of exactly what you are looking for on your special day. What kind of music styles do you want to hear? What kind of music do you not want to hear? What kind of activities do you want to do? Do you have a certain entertainment style in mind? That information will allow us to custom tailor your wedding reception to meet your expectations.
Our package is all-inclusive and unlike most DJ companies, our rate is not based on an hourly rate nor is it limited to a number of hours. In addition, our package also includes features many companies treat as optional such as -- but not limited to – your personal online wedding planning account, an on-call back up DJ, a professional digital sound system with on-site back up equipment, a dance floor lighting system, a wireless microphone system and one DJ/ Emcee who will also act as master of ceremony and your personal wedding coordinator.
However, since we are a full time production company, we also offer a full array of available services including, but not limited to, Photo Booth Service, Room Décor/Uplighting, Ceremony Service, Audio/Video equipment including Video Montage production, Name In Lights/ Monogram plus many other lighting and sound options. If you are looking for any of these additional services working with one company not only simplifies things, but also provides you with cost savings (vs. hiring separate companies for these services).
Our mission is to give you the personal attention you expect and deserve. We understand that choosing the right entertainment is a very important decision and can be a difficult one to make. To assist you with this process, we would like to invite you to schedule a no obligation consultation to come into our studio to discuss your vision of your wedding reception with us and let us show you how An Enchanted Evening can help make your special day a success. At a consultation we can give you a live demonstration on our audio system in our sound room (so you can hear the quality of our professional grade audio equipment), show you our online planning site and also give you the opportunity to see some of our work as well. Should you choose to have An Enchanted Evening represent you on your special day it is important to note that the selection of our service is just the beginning of your relationship with An Enchanted Evening. You can be assured that we will do everything we can to make sure your wedding is a success. We will be happy to assist you with your wedding planning and finalize all of the details of your reception ahead of time so you can enjoy your special day to the fullest.